@ Distortion - Live Music Venue
Review and photography by: Xavier Cattarinich (RavenKin Photography)
All text and images on this page are 
©
 Xavier Cattarinich / RavenKin Photography 2018. All rights reserved. 
Artists, artist PR reps and agents, if you would like to obtain high res images or view private galleries of other unpublished images, please submit a request via the Contact page. Thank you for your interest! 
______________________________________________________________________________________________
In the midst of a Calgary March with record-breaking snowfall, temperatures started warming ever so slightly on the night of Saturday, March 10. Was a Chinook wind blowing in over the mountains?
No. This was something different. Something coming in from as far away as California's Palm Desert, bringing a whole lot of dry heat with it. Dry heat and sludgy bass lines that I swear everyone else across the country could probably feel in their sleep. 
What all this heralded was the arrival of
John Garcia
, former frontman of desert rock pioneers

Kyuss

, about to perform an intimate and interactive set in a small underground club in Calgary—his only live performance scheduled for North America in 2018. Folks would be forgiven for expecting that given the circumstances, Garcia—who released an acoustic solo album in 2017 titled

The Coyote Who Spoke in Tongues

, which featured new material as well as reinterpretations of Kyuss classics—would perform unplugged. Yet to the delight of his Calgary fans, he brought his three bandmates for a super charged, fully electric set. What a score for the Distortion Live Music Venue, and for event promotion partners METALHEADS UNITED and the 420 Music & Arts Festival.   
"So why Calgary?" I can imagine many people wondering. Essentially, because the stars aligned for Garcia and his bandmates, taking into consideration their family obligations and "real world" jobs.
Yes, you read right. As Mr. Garcia explained on stage and at greater length during a recent METALHEADS UNITED podcast, he and his bandmates all have day jobs—Garcia at least because he is happy with the way his job as a veterinary lab technician keeps him grounded. His down to earth anti-rock star persona, evident commitment to his wife and two kids, and devotion to the welfare of the non-human creatures with which we share the planet made me admire the man all the more. I was really stoked for his show. 
Did Garcia deliver? Let's keep the anticipation building a little longer, shall we?
Two highly esteemed local stoner rock bands had the honour of warming the stage for Mr. Garcia, with three-piece fuzzmeisters
Hypnopilot
up first.  One audience member, himself an active musician in the Calgary metal scene, confided that Hypnopilot were one of his very favourite hometown bands. Originally founded in 2002, the group went on hiatus around 2009 after releasing two EPs and a self-titled album. They got the ball rolling again in 2012 and have been plugging away at their own pace ever since. The fan I chatted with told me that he had threatened to start his own Hypnopilot cover band if they ever called it quits. Fast forward to tonight and there they were, a band whose influences included Kyuss from day one, opening for John Garcia. Dreams do come true, boys and girls.
It's easy to understand why that one fan enjoys Hypnopilot's music so much. And judging by the crowd that showed up early to watch them play, he isn't the only one.  While heavy, the trio's songs are catchy and have that classic 70s groove to them, though they feel tighter and more focused in comparison to the work of other stoner bands. Enigmatic lead vocalist/guitarist Matthew Simmons, whose eyes were concealed by the brim of his black cap for much of the set, exhibited a great sense of melody perfect for whisking listeners away on a magic carpet ride. When not busy capturing the pilots through my lens, I was watching from the sidelines with foot tapping away. 
Self-described practitioners of "boogie-infused facepunch rock and roll" and also Official Ambassadors of Orange Amps,
Chron Goblin
ascended the stage next, with transparent orange drum kit to boot (well, it looked orange during set-up!). These guys brought the beef and the swagger, with their own interpretation of "heavy" rooted in a fusion of melody with desert rock, Bayou blues, Sabbath-like chug, and the occasional full metal attack. With three full length releases and an EP under their belt, the Chron boys had a vast repertoire to choose from. "Fuller," off their most recent and critically acclaimed album,

Backwater

(2015), is one hell of an ass-kicker.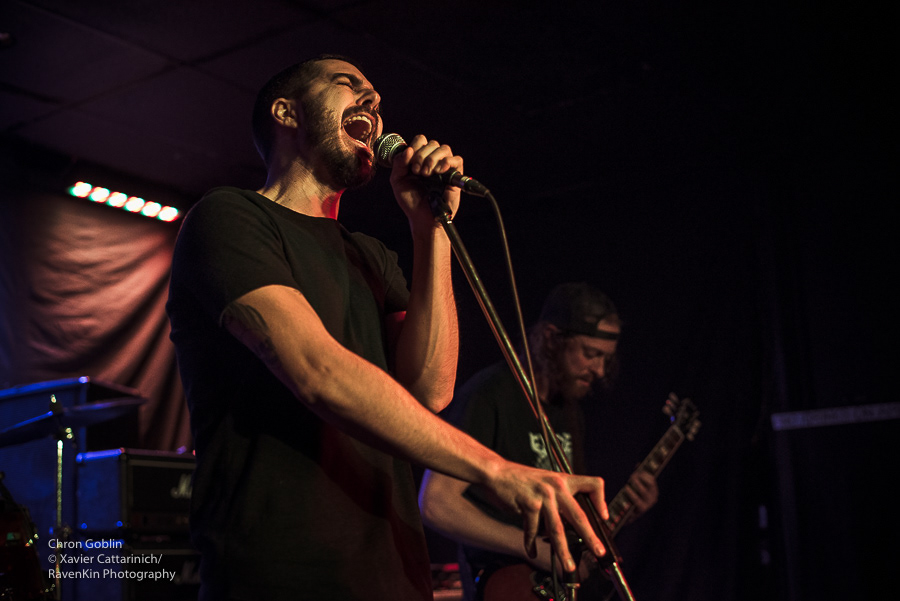 Vocalist Josh Sandulak belted out the tunes with conviction, closing his eyes and transcending the limits of time and space to project his soul in a swamp somewhere far away, while guitarist Devin Purdy, bassist Richard Hepp and drummer Brett Wittingham laid down an infectious rhythm section that just couldn't be ignored. By the midpoint of their performance, Chron Goblin were playing to a packed house, spectators swaying and cheering with gusto. It was wonderful seeing local openers getting such a huge reception, and the band reflected the public's enthusiasm in spades. Keep an eye on these lads, they're going places.
At last, the time came for the self-effacing icon everyone had come to see—

John Garcia

—to take the stage. Guitarist Ehren Groban, bassist Mike Pygmie, and drummer Greg Saenz got the show on the road by launching into the lengthy instrumental intro to "Molten Universe" from Kyuss's

Blues for the Red Sun

(1992). With volume cranked to 11, the sludgy bottom end pulsed clean through nuts'n'guts. And straight out the gate, Saenz showed just how much a talented skin pounder could do with a minimalist drum kit. 
After a few minutes, Garcia finally joined the rest of the band on stage. Had I not seen the promos for the show, I never would have recognized Garcia on the street. Shorn of his long locks and clad in a collared black shirt and pants, sporting a neatly trimmed salt and pepper beard, he exuded a distinguished gentleman's charm that could not have been further removed from the disheveled look he sported in years past. 
Did the shearing of locks also rob this desert rock Samson of his vitality and street cred?
Garcia followed up "Molten Universe" with "Gardenia," his cover of Black Mastiff's "Rolling Stoned," and "My Mind"—the latter two from his first, self-titled solo album (2014). His voice remains as distinct and powerful as ever, evoking psychedelic drives under desert skies and even the guzzoline grunge of Mad Max films. He's got moves. And while the remainder of the show was weighted heavily toward Kyuss classics—with nearly two thirds of the set consisting of favourites including "Supa Scoopa and Mighty Scoop," "One Inch Man," and "Space Cadet"—Garcia also dove into songs from his two solo albums and

Hermano

back catalogue.  
Through it all, audience (and photographer) were packed tight as baking sardines, fans pointing fingers and pumping fists and devil horns, singing along, and dancing and moshing as much as the limited confines would allow. Having covered a Scandinavian black metal show laden with theatrics at a larger venue the night before, I can assure you that the energy coming from both Garcia's band and the audience far exceeded anything I had witnessed at the former concert. 
The real highlight was seeing just how much fun the guys were having on stage, and their interactions with the fans. At one point, Groban had a turn at the mic, explaining to the crowd that "there's a good reason that John doesn't let me use the mic." I half expected him to provide some self-deprecating rationale, but he continued with, "I have a much better singing voice than John." Garcia couldn't help but laugh good-naturedly, the audience with him. And when Groban requested a beer from the bar while onstage, the band were treated to shots  and a fistful of beer courtesy of Distortion and generous fans. "What is that now, eighteen beers?" asked the guitarist. "I'm getting hammered tonight!" he laughed impishly. Yeah, the connection experienced here between band and audience really can't be replicated in bigger venues.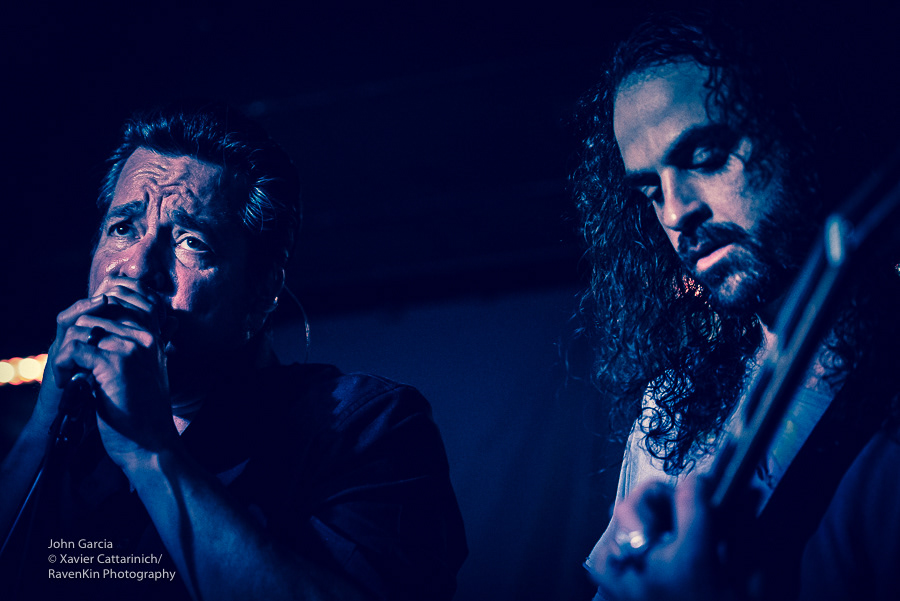 After a fifteen-song set, Garcia and friends returned to the stage to perform a three-song encore, closing with the Kyuss smash "Green Machine," followed by "Whitewater." I had hoped they would perform my favourite Kyuss song, "Demon Cleaner," but no luck there. And that's fine. You can't please everyone all the time, and I fully appreciate artists not wanting to be too predictable. By the end of the show, I was thinking, who needs a Kyuss resurrection when John Garcia solo gives you the Kyuss experience and more?
As I finish writing this review, Calgary is experiencing yet another massive blast of winter. John, please come back with some of that desert warmth!!!
_________________________________________________________________________________________
Matthew Simmons - Guitar and vocals